As I sit here in my chair typing my FIRST BLOG POST EVER, the idea pops into my head that my feet are FLAT, so flat that the walls are jealous of me…and I am in PAIN!
Even after receiving new shoes, orthotics, steroid injections and casts, it still feels like an army of leprechauns are dancing around in my shoes kicking me because I won't give their gold back.
So how do flat feet relate to fitness?
Well, your body is like a chain and if you abuse the part of the chain holding up your entire body (your feet) they will CRUSH you!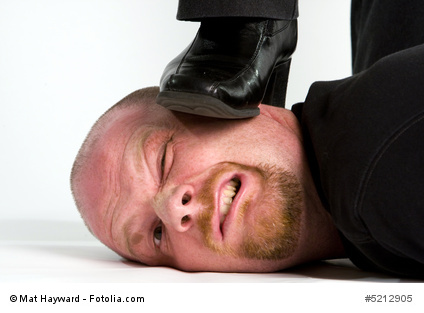 My feet are rigidly flat, which basically means the bone structure will not allow me to escape the flatness.
Dialogue between me and Shoe Store Worker
Shoe Store Worker: "You have the flattest feet I've seen in my entire life."
Me: (pausing thinking of a good witty retort)  "I know."
HOW DID FLAT FEET CAUSE MY FOOT PAIN?
Overstretched tendons
Abnormal weight distribution
Decreased shock absorption
I'm a goner cause my foot is rigidly flat meaning I have no foot arch when my foot is on or off the ground.  If you want to prevent flat feet or you are flexibly flat footed though, meaning you have no arch when your foot is on the ground, but have an arch when it isn't, then you still have hope!
WHAT ARE SOME EXERCISES / THINGS YOU CAN DO TO PREVENT / GET OUT OF FLAT FEET?
Stretch your calves!  If your calves are tight, you won't be able to bring your foot up towards your body.
Walk around MORE in your bare feet.  This will strengthen the muscles in your foot.
Put your feet up against a pillow on the wall and move your feet away from you while facing your soles inwards.  Do 10 repetitions and hold each one for 10 seconds.
Stand on one foot in an area where you can catch yourself if you lose balance.  If this is too easy, you can stand on a Bosu Ball or close your eyes while attempting.  This exercise and the one above strengthen your Posterior Tibialis, which is a muscle that holds up the arch of your foot.
I hope you all enjoyed my first blog post and that it wasn't a total Snorefest!  Any advice or questions or if you would just like to tell me that what you just read was epic….please comment and let me know!