Ways you waste time in the gym
 1.  Your rest breaks are ridiculously long
I see people so lazy in the gym that  they make Garfield look like Kobe Bryant!  I've been going to the gym a lot lately and people are just lounging around like they are on the beach.
Now, I realize it is the summer and it feels so hot that you feel like your sweat is sweating, but people really need to stop taking such long rest breaks!  I honestly went upstairs the other day to do some cardio and below is pretty much what I saw when I got up there.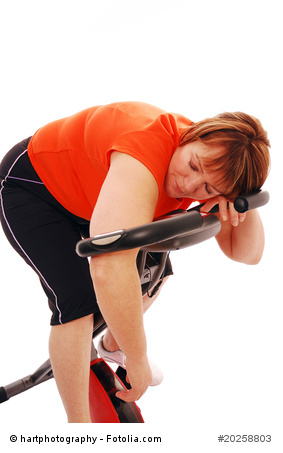 That's right.  I came upstairs and I saw a woman fast asleep on the exercise bike!  Now, I'm a big fan of sleep, I love sleep!  But the gym is not the place to sleep, the gym is for exercising.  Instead of sleeping, this woman could have been doing multifarious exercises and then could have gone home to sleep.
2.  You socialize a crazy amount
There are some people I see in the gym who talk so much it is ridiculous!  There is one guy who is always at the gym I go to.  He talks on and on, like a broken record.  He would be a muscle bound brute right now if he spent his time actually working out, but he literally spends 75% of his time at the gym socializing.  I'm all for being friendly and talking to other people, but the primary purpose of going to the gym is to get healthy and fit.
If you are a big social butterfly at your gym, recognize it and resist the temptation to talk.  Instead, focus your energy on working out.  You will feel a lot better!
If you are a victim of  a talker, recognize that you are allowed to protect your boundaries and tell them that you have work to do and can continue the conversation another time.
 3.  Your technique is poor
Some people at the gym have severely bad, horrible technique!  This goes for pretty much every exercise I see people doing in the gym.
I see people on the exercise bike going so slow they look like they would come in last place in a race against a snail and a parked car.  I see people doing standing dumbbell curls at the gym swaying back and forth with their body so much that they look like a one-legged giraffe trying to balance themselves on marbles.
If your technique is extremely poor, you aren't getting any benefit out of the exercise at best.  At worst, you could be setting yourself up for an injury.
4 Ways to Spend your Time Wisely in the Gym
1. Remain Focused
Remember, you are at the gym to get in better shape and become healthier.  Remain focused on your purpose for coming in the first placed.  This way, working out will be priority number one, instead of someone coming up and starting a long-winded conversation with you or talking about the latest WWE match on television.  (When I work out at night, there is commonly one guy with his 2 friends who love watching the WWE.  I guess it is like a soap opera for men).
 2.  Have a Purpose and know How to Achieve it
Know what your fitness objective is and how attain it.  Are you trying to become better at golf?  Then you should know what particular exercises will get you to that goal.  Are you trying to get bigger muscles?  Then you should know what to do in the gym to achieve that goal.  You need a purpose and a battle plan to successfully achieve it.
For example, if your goal is to lose weight and you are doing what the guy below is doing, you do NOT have the proper battle plan.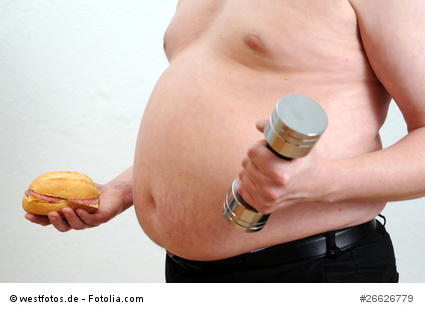 3.  Make use of a Personal Trainer
A personal trainer may help you off to a nice start if you have never set foot in a gym before and/or are not really sure what to do to achieve your goals.  This could be a great benefit to you in terms of saving time and avoiding improper technique which can lead to an injury.
4.  Use a Fitness Journal to keep track of your Progress
We live busy lives and have so many things to do that it is very easy to lose track of what exercises you are doing, how many sets of them, how many reps of them and more.
Keeping a fitness journal can allow you to remain focused in the gym too as an added benefit.  A fitness journal can also boost your confidence and motivate you to keep at your program because you can look back and objectively see the progress you have made.  You can also see what exercises do not seem to be improving or working for you, or even what exercises you have done that may have caused an injury to you.
IN CONCLUSION:
When we go to the gym with noble goals in mind, it is very easy to get side tracked.  From the temptations to socialize and over rest, to just going in and exercising without having studied the proper forms and techniques, it is easy to see time squandered.
When we go in the gym with a battle plan though and doing things like starting off with a personal trainer, being focused, having a purpose of being there and having an exercise journal to keep us organized, our time in the gym may then be rewarding and well spent and the results will show in terms of looking better and feeling better about yourself and being healthier.