It is amazing the day and age we live in where we can use video game consoles to exercise!  It just makes one think what the future possibly holds with gaming.  I'm thinking eventually there will be 3-D monitors and holographic images to immerse you directly into the game itself.  If you think it is too easy to get addicted to video games now, wait until technology reaches that point in the future!
I believe there is a stigma attached to using video games to exercise though.  I very commonly hear the phrase 'No pain, no gain!' when I am in the gym (which is completely false by the way).  When we think of playing video games, we aren't exactly thinking of working hard and exerting ourselves.  We are probably thinking of laying down on the couch half passed out and eating nachos (at least that's what comes to my mind).
This is definitely not true though with the advent of modern gaming technology, such as the Nintendo Wii Fit Plus.  You can push yourself very hard with the games they offer and get a workout equivalent to running on the treadmill or cycling.
Personally, I LOVE going to the gym.  I particularly love lifting weights.  Lifting weights makes me feel big and powerful and one guy even called me 'Hercules' as I walked in today.
The part about the gym that I HATE is cardio.  I find it to be dreadfully boring and I hardly ever want to do it at the gym.  I'm sure in the future when technology allows it, people with money will remove their conscious being from their body and hire a trainer to run their body for 30 minutes while they watch television or float around in the air or whatever it is they do for fun in the future.
The point that I'm trying to make is that many people don't find exercises like running on the treadmill to be much fun, so they choose not to do it.  You can agree with me that if more people found exercise to be fun, they would do it more often, no?
 Nintendo Wii is Perceived to be Easier than other Exercises
I recently read an article in the International SportMed Journal called Comparison of rates of perceived exertion between active video games and traditional exercise.  The overall theme of the article was that how hard an individual psychologically perceives an exercise to be will have an effect on how well they stick to performing that exercise on a consistent basis.
This study looked at 12 healthy college age individuals around 21-22 years of age.  The study gave them 3 exercises in random order.  The exercises chosen were the treadmill, a cycle ergometer (like a stationary bike) and the 20 minute free run program on the Nintendo Wii Fit Plus.  A 24 hour rest period was also given between each exercise so data collection from one exercise would not interfere with another chosen exercise.
For this study, the 3 exercises were given in random order to each individual for 20 minutes each.  The exercise intensity for each individual was also fixed at roughly 65% of their maximum heart rate that was predicted from their age.  So during the 20 minute bout of each exercise, the hearts of the participants were beating at 65% of their maximum rate constantly.
While performing each exercise, the participants were told to estimate HOW HARD THEY WERE WORKING, or their rating of perceived exertion.  A score of 6 meant they were not exerting themselves, while a score of 20 meant maximal exertion.  Every minute the exercise was being performed, the participants gave an estimate of their perceived exertion, then gave an average of their overall perceived exertion at the end of the exercise.
The results of the study were that the Nintendo Wii received the lowest perceived exertion score of 9.50, while treadmill received 9.92 and the cycle ergometer received a score of 11.08.  The study concluded that despite each exercise working the participant equally as hard, participants perceived their exertion to be lower on the Nintendo Wii as compared to the other two exercises.
Advantages of the Nintendo Wii as a form of Exercise
So why was the Nintendo Wii perceived to be easier by participants in the study even though they were exerting themselves just as hard on the other 2 exercises they were doing?
I don't know about you, but I play video games, I am totally mesmerized by them and closed off from reality.  There could be fireworks going off outside and gorillas juggling bananas right in front of me and I still won't care.
You may not be as engaged as me when playing video games, but we are all DEFINITELY engaged with them.  Because of the lights and sound and interaction, we are paying less attention to our what our body is telling us.  The game is taking up part of our attention span and distracting us.
Not to mention the above points, but the Nintendo Wii is also far less expensive than a treadmill or stationary bike.  While those might cost thousands of dollars, a Nintendo Wii you can get for roughly $160 and I'm sure even less if you are looking.
So in conclusion, with the Nintendo Wii being an inexpensive and fun piece of equipment that you can exert yourself just as hard on as if you were to be running on a treadmill or cycling, more people like yourself should definitely give it a try if you are finding yourself not being fully able to adhere to an exercise program to maintain ideal health and fitness.  So go have some fun on that Nintendo Wii!
Tweet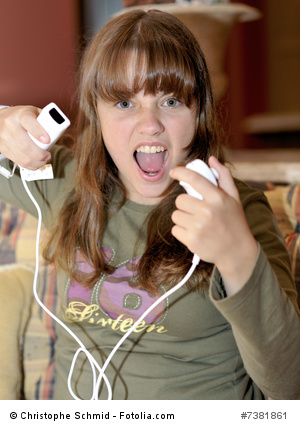 Works Cited:
Devereaux, J. et al.  Comparison of rates of perceived exertion between active video games and traditional exercise.  International SportMed Journal.  2012; 13 (3): 133-140.